AUSTRALIAN TOP 30 CHART LISTINGS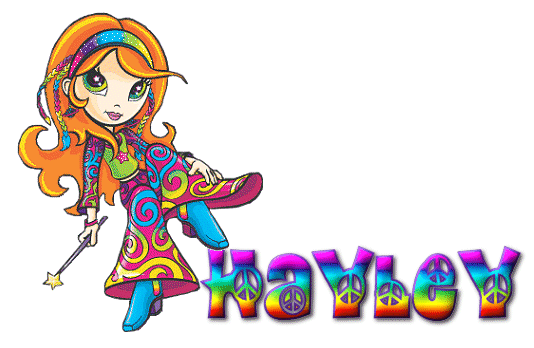 Scans of Recent Newspaper and Magazine Articles Are In Picture Section Of The Above MSN Group.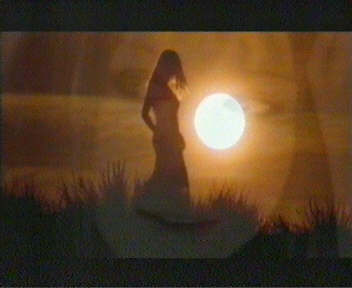 From Commercial for Pure,sent by Paul N to RWHW
Forum: Click Banner
Fresh Horizons for Hayley

Christchurch Star July 9th 2003


The Christchurch girl with the voice of an angel is spreading her wings.
Hayley Westenra,whose debut international albim,Pure,will be launched in New Zealand on July 17,is off on an eight month promotional tour.
It will take her to Australia,Hong Kong,Korea,and Singapore and then to the United Kingdom.
A concert in Wales with international tenors Bryn Terfel and Jose Carreras ,and two in London,will be highlights in a dreamlike trip that will introduce the year 12 Burnside High School student to the music world.
I'm going to miss my family and my friends and just being home,with space outside.But what i'm doing is just so exciting," the 16 year old singer said.
Alongside the glamorous gowns in her suitcase will be lots of natural herbal products designed to keep the young
vegetarian healthy.
Last year, Hayley signed with Decca Records,
International the world's largest classical label and home to greats such as Andrea Bocelli ,Pavourotti and Russell Watson,
Hayley has broken new artistic ground in her choice of songs for Pure.
Before,I was singing show tunes and light classical music. It was all one genre,whereas now i've got a lot more variety.
I'm going to more extremes withproper classical pieces and poppier songs.
Making this album has broadened the way i sing, I've developed different singing styles."
And for the time being,that is just where she wants to stay.
Sometimes i think i'd like to be an Opera singer one day,but when i hear Celine Dion and other people,I'd love to do that too.I guess you see how it goes.You feel your way through."
For the moment,life is exciting enough.
When your recording,it's a relaxed atmosphere and a fun experience,but when you're performing live,its a real buzz."
It won't all be promotional work and travel for the young student,halfway through her sixth form year,however.
A tutor has been engaged in London to help her keep up with school work.
I'll be working towards some GCE subjects,English language,English literature,French,German,Science,Maths,and History."
To Hayley,
A dream just beginning.
We are very proud of you in Christchurch .
Myself i have followed your career for many years ,and from an early
age,it was apparent that you would go far.
If only someone would take notice.They did.
Enjoy your success ,as we will enjoy and be amazed by this Album and the many more in the future,
This week : Pure Number one Classical Charts Australia
28/07/2003
have a safe journey around the world
from Belinda
Watch as Pure becomes the best selling album of 2003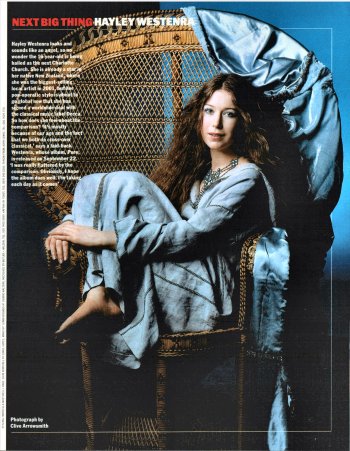 New Album "Pure"Hayley's Debut Album coming soon.
Its not often that you meet such a naturally talented star,
but thats exactly what 16 year old New Zealand Singing sensation Hayley Westenra is.
Her voice is both fresh and innocent whilst being fully controlled and developed.
Having signed Hayley to a worldwide recording deal,
Decca will Release her International Debut Album "PURE"
Beginning this summer.
On this album she explores the world's of pop ,Traditional Maori choral singing and gives a new freshness to well known
Classical songs.
Release Dates New Zealand and Australia JULY 2003
Rest of world in the Autumn.
Information from Decca May Newsletter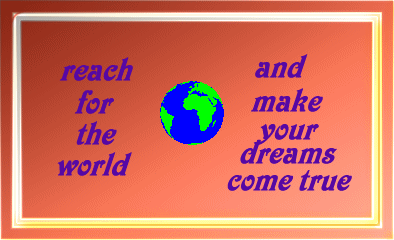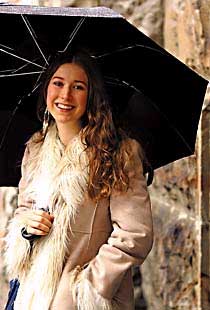 CD Signing Riccarton Mall 18/07/2003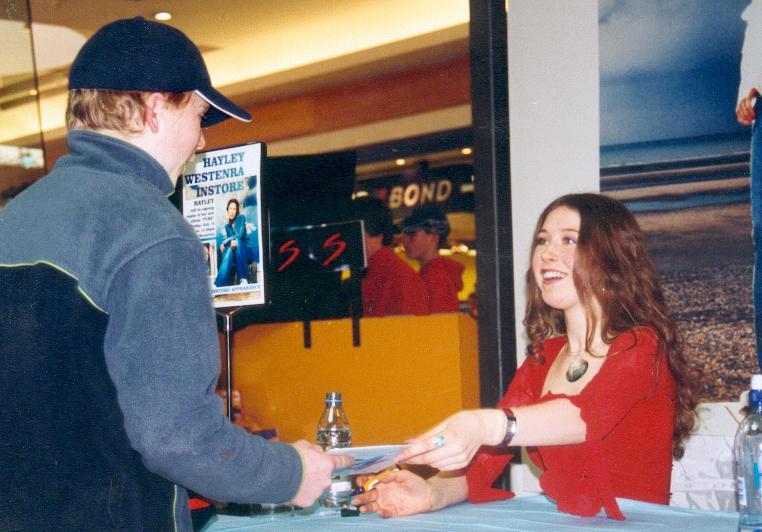 Hayley Meets The Fans,Photo's thanks to Ben
You May have caught me in this pic Ben,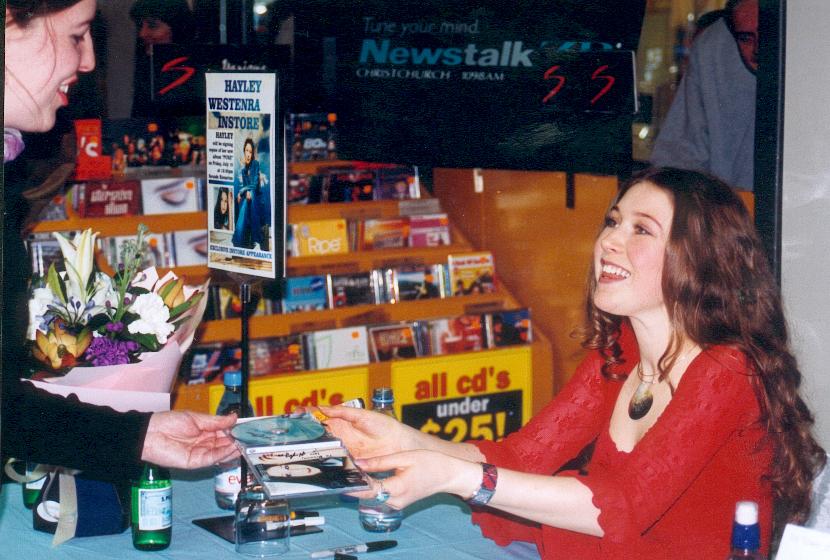 Between ladies face and behind Cd Stand
When we arrived at Sounds,there would have about 30 people in front of us we were only just in the shop .
The line then headed out the door and down the mall.
Hayley arrived wearing her coat as seen above,with her dad , first getting her photo taken with two little girls.Gerald taking video outside the shop at the line of people etc,Hayley's mum Jill arriving a little later and took pics mainly in the shop. As was Ben.
There were lots of people taking pictures,would be interested to hear from any others that were there.
International Track Listing
Pokarekare Ana
Never Say Goodbye
Who Painted The Moon Black
River Of Dreams
Benedictus
Hine E Hine
Dark Waltz
Amazing Grace
My Heart And I
In Trutina
Beat Of Your Heart
Across The Universe Of Time
Heaven
Wuthering Heights

Who Painted The Moon Black Track Listing NZ

Beat Of Your Heart

Never Say Goodbye

Dark Waltz

Heaven

In Trutina

Across The Universe Of Time

River Of Dreams

Wuthering Heights

My Heart And I

Benedictus

Hine E Hine
A Favourite Outfit of Hayley's
See Article Young Entertainer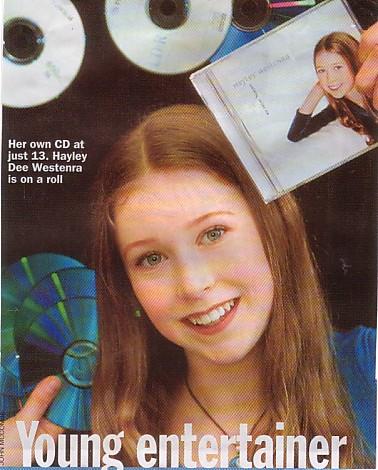 On this site I'll include everything about Hayley, including photos, a biography, breaking news, and past performances.
Music Awards 2002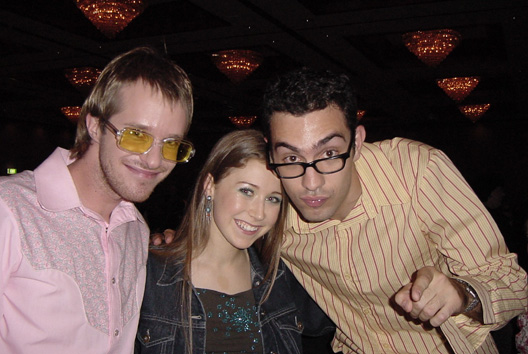 Godfrey De Grut,Hayley,Piero

Andy's Site Hayley Westenra World (UK)

On this home page, I will include some information about how I originally became a fan ,

I first heard Hayley at all our local talent quests held at the different malls around town.

Christchurch ,New Zealand,

One i Remember very well was at South city Mall ,

Hayley Sang Con te Partiro (Time to say goodbye).

At the end of the show and after the prizes were given out Hayley was asked to sing it again to a Great response,one of her first standing ovations i'd say.Among the crowd were two people grinning from ear to ear a family resemblance i could see, it was Hayley's aunt and grandmother, they had every reason to be proud.

Hayley's voice always stood out from the rest,So it was only a matter of time before the world would take notice. My daughter Kimberley was also in these contests but in a different age group.The song (time to say goodbye ) is off Hayley's Demo CD "Walking in the Air" I remember hearing about plans for that as we waited for the auditions for "Rush"a New Zealand Written Musical that Hayley,Sophie, and Isaac all performed in.It would be great to hear these songs sung by Hayley now ,they were Awesome then ,so now would be out of this world.

We saw Hayley at many Auditions ,for singing and acting parts.She was involved in these agencies .(1)Little Youth Talent School(2)Spotlight Model Agency(3) Renaissance Management.

Leave a Message on the New Forum

Or on Hayley Westenra Worldwide Chat Central


Thanks for taking a look at my site. Be sure to contact me if you have any questions and i will see if i can find the answers for you.

Youth Celebration

Sophie Westenra is to perform at The Celebration For Youth Concert

at th Cathedral of the Blessed Sacrament at 7.30pm on August 1st 2003.

It will be a rare opportunity to hear some of New Zealands finest young musicians.Guest artist will be Jared Holt,who appears with the permission of Canterbury Opera.This will be Holt's final performance in New Zealand before returning to London to begin a contract with the Royal Opera House,Covent Garden.

Other performers will be the Woolston Junior Band,CBS Youth Choir,A Burnside High Chamber Group,and Salina Fisher.

Tickets available Ballantynes and the Catholic shop,Chancery Lane.
Hayley Westenra International Uk/USA

Hayley


Christmas in the Park Auckland 2002

Lindsay's site Hayley Westenra Fans(NZ)

The Westenra Family